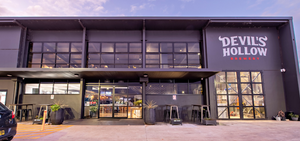 Frequently asked questions
lets find the answers to your questions
Frequently asked questions
Our venue has been designed to welcome as many of our community (as long as they're over 18 😉) as long we they can.
The bar (taproom) and kitchen are both located on the ground floor. While the mezzanine of the brewery is only accessible by stairs, there are no services (only seating) on the mezzanine.
The ground floor of the brewery:
is accessible to wheelchair and mobility aid users, with even concrete floors, no steps, and wide spaces
has accessible toilets
features low counters at the kitchen and taproom for easier ordering.
There is ample parking, including accessible car parks, and flat, open walkways into the venue.
If you have any furhter questions about our venue, please call us on 02 8328 006.
Yep!
We have over ample car spots available, as well as street parking close to the venue.
Yes.
We have a bus pick-up and drop-off service that runs on Friday & Saturday nights from 5pm.
Depending on your location, the cost is between $5 and $10 per trip (that is, each way).
Bookings can be made by calling or texting 0480 398 800.
Kids are welcome, they just need to remain under adult supervision at all times and not allowed to stand at the bar.
If kids are coming, please include them in your booking numbers.
All minors must be with a responsible adult to enter the brewery.
Due to licensing restrictions, your beloved four legged friend/s aren't allowed in the brewery unless they are an accredited Assistance or Service dog.
That said, if you are travelling through or taking your furry friend for a walk, there is an area near the entrance where you can water and let your furry friend stretch their legs.
We have events and activities scheduled for almost every week of the year.
The best way to stay informed is to sign up to our newsletter in footer of this website.
You can also keep an eye on our social media channels, or visit What's On to check out upcoming events.
Yes.
We have a 3m x 3m projector screen in the main brewery area (most visible from the ground floor) to showcase live sport and other major events during the year.
We love spontaneity, walk-ins are welcome any time of the day.
We encourage you to book ahead if you have a large group, or are coming in at a peak time (such as nights, weekends and public holidays).
You must be 18 years or older to make a booking, and all minors must be accompanied by a responsible adult.
Yes, you can bring a cake along. We encourage you to bring along your own disposable plates and (non-plastic cutlery).
If you are unable to bring disposable plates and cutlery, or forget, you will be charged a "cakeage" fee.
If the kitchen cuts and plates the cake, and supplies cutlery and napkins, the fee is $3.50 per person. If our taproom supplies paper plates, napkins and cutlery,
for less than 10 people, the fee is $5.00
for 10 or more people, the fee is $10.00.
We love being a part of your special occasions, and can't wait to help you celebrate.
Yes.
All of the beers that we brew on site are avaiable from the brewery in cans, growlers, or squealers.
You can buy them from the taproom, or order online (click and collect only).
Must be 18 years or older to order.
Absolutely.
We can take your order at the kitchen, over the phone, or via the FoodHub app.
Yes, we do!
We have one tap dedicated to Great Northern, and have been known to throw in a XXXX over the busy Christmas period.
Throughout the year, we have a range of guest beers available in tap, from our friends at other independent and regional breweries like Bentspoke and Welders Dog.
Gluten Free and less then 0.5% alcohol beers are also available in cans or bottles.